The lawmakers were in Lawrenceburg on Wednesday to review happenings during the 2023 legislative session.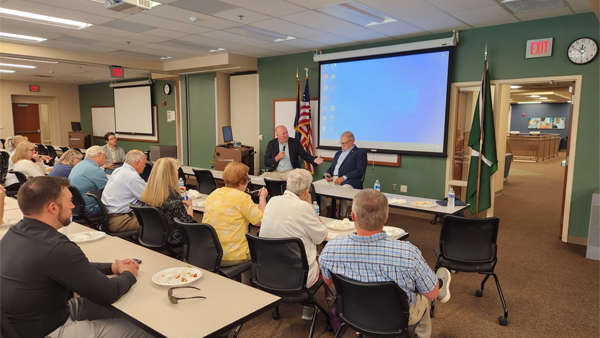 State Senator Chip Perfect and State Rep. Randy Lyness speaking at the Post Legislative Luncheon at Ivy Tech in Lawrenceburg. Photo by Travis Thayer, Eagle Country 99.3.
(Lawrenceburg, Ind.) - State Senator Chip Perfect (R-Lawrenceburg) and State Rep. Randy Lyness (R-West Harrison) were in Lawrenceburg on Wednesday to speak at the annual Legislative Luncheon at Ivy Tech Riverfront Campus.
Hosted by the Dearborn County Chamber of Commerce and sponsored by Duke Energy, the state lawmakers spoke about the new two-year state budget and other happenings that stood out during this year's legislation session.
State Rep. Lyness gave some brief opening remarks before handing the microphone off to Senator Perfect. Lyness spoke about a new law in Marion County that prohibits vehicles from turning right on red. He followed by saying that his purpose at the statehouse is to prevent laws like that from making their way to Dearborn County.
"It is great to live in southeast Indiana and if you leave us along we'll be pretty good," said Lyness.
From there, the two lawmakers spoke about the new, two-year state budget.
Perfect said this budget was one of the most difficult to balance due to extra money being available through state revenue. "Everyone wants the state to fund more things when there is a surplus," said Perfect.
He added that the General Assembly was able to balance their 10th straight budget because they "live within our means" and "are not going to spend any more than we take in."
A diagram presented by Perfect and Lyness showed that 47 percent of the $44.6 billion budget is dedicated to K-12 education.
The state will continue to make historic investments in K-12 education with an additional $1.47 billion in tuition support over the next two years. The increase will empower local public schools to reach the goal of achieving a statewide average teacher salary of $60,000.
Another big piece of the pie was Medicaid. Eighteen percent of the two-year budget is focused there. Perfect was adamant that something change with the way Medicaid is being funded, stating that the sector is "rapidly growing and received the largest increase in funding this year."
Some of the new laws that stood out to Perfect this session include:
House Bill 1004: Health Care Matters - Establishes the health care cost oversight task force and sets forth duties for the task force.
Senate Bill 5: Consumer Data Protection - Establishes a new article in the Indiana Code concerning consumer data protection, to take effect January 1, 2026. Sets guidelines on who has authority to use your personal data.
Perfect also touched on Senate Bill 27, which allows the City of Lawrenceburg to designate an outdoor location as a refreshment area with the approval of the alcohol and tobacco commission. The bill, authored by Perfect, was signed by Gov. Holcomb. Under the law, designated retailer permittees would be able to sell alcoholic beverages for consumption within the refreshment area. Examples of current DORA's in the area would be The District in Harrison or The Banks in downtown Cincinnati.
Looking into the future, Perfect and Lyness touched on topics such as medicinal or recreational marijuana (which comes up every session), the potential for iGaming, and more.
To keep up with happenings at the Indiana Statehouse, visit https://www.in.gov/idoa/statehouse/home/.