The fire broke out on Grelle Road early Tuesday morning.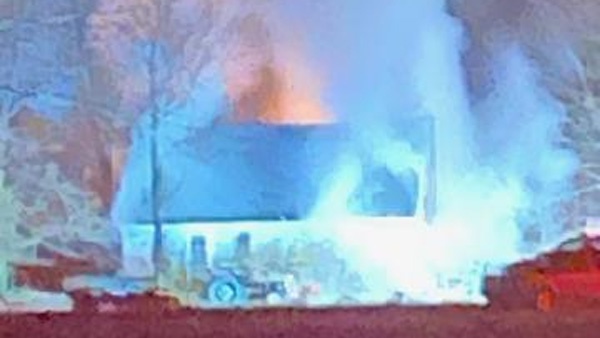 Photo credit: Dave Goodwin.
Update published Wednesday, November 25 at 9:04 a.m.:
No injuries were reported in Tuesday's early morning fire near Farmers Retreat.
The Friendship Volunteer Fire Department was dispatched to a structure fire on the 7000 block of Grelle Road around 1:55 a.m.
Upon arrival, the residence showed heavy fire in the basement and the north side of the structure with extension to the second story.
A partial floor collapse made for difficult conditions for firefighters.
The fire was declared under control around 4:00 a.m.
The home suffered heavy fire damage along with significant smoke and water damage.
Agencies assisting at the scene included Dillsboro Volunteer Fire Department, Milan Volunteer Fire Department, Versailles Fire Rescue, Ripley County EMS, Dearborn County Sheriff's Office, Indiana State Police and Southeastern Indiana REMC.
Original story published Tuesday, November 24 at 9:24 a.m.:
(Farmers Retreat, Ind.) – Firefighters from multiple agencies got an early wake up call on Tuesday.
A structure fire was reported on the 7500 block of Grelle Road near Farmers Retreat around 1:52 a.m.
Upon arriving at the scene, firefighters found the structure fully engulfed in flames.
Responding agencies include Friendship Volunteer Fire Department, Dillsboro Fire, Milan Fire, and Versailles Fire.
No other information has been provided at this time.
Check back for updates.