The national championship tournament took place over the weekend in Alabama.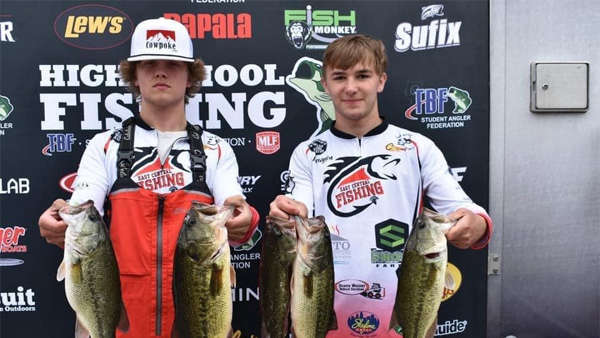 Grayson Hylton and Issac Smith at the Indiana State Bass Fishing Tournament. Photo via East Central High School.
(St. Leon, Ind.) – The East Central Fishing Team duo of Grayson Hylton and Issac Smith placed 147th out of 236 teams at the 13th annual High School Fishing National Championship in Florence, Alabama.
The three-day event was held June 22-25 at McFarland Park.
Hylton and Smith caught two fish (three fish limit) on day one, weighing in at 6-02. On Day 2, Hylton and Smith brought in one fish at 1-08, bringing their total for the tournament to 7-10.
For the entire tournament, there were 869 fish caught and 825 released (96%). The total weight was 2445-01.
The tournament big sack of 18-08 came from Fallon Clepper and Wyatt Ford, of Lake Creek Montgomery (Texas). The duo also had the daily big bass of 6-15, and were the overall national champion with nine fish, weighing 39-09.
The top 10 placing teams from the national championship advanced to the world finals, which was contested on Saturday.
Full results from the national and world championships can be found at 13th Annual High School Fishing World Finals and National Championship Home Page – Student Angler Federation.
RELATED STORIES