Britton was among the original crew at WSCH when the station went on air in 1970.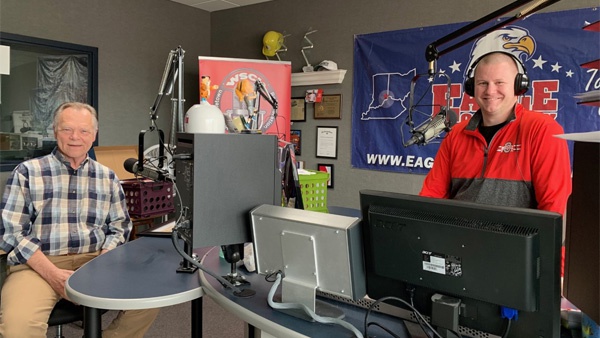 Bob Britton (left) joins Double T, Travis Thayer in studio to help celebrate WSCH's 50th Anniversary. Photo by Melissa Murphy, Eagle Country 99.3.
(Lawrenceburg, Ind.) - You can't celebrate an anniversary without taking a trip down memory lane.
WSCH, better known today as Eagle Country 99.3, is celebrating its 50th Anniversary this year. The station, created by John and Barbara Schuler, went on the air October 29, 1970.
The very first disk jockey's to be on-air at WSCH were Bruce Campbell (morning's) and Ron Keith (afternoon's). Kenneth Courtney served as the engineer, and Bob Britton joined a couple weeks after doing air work, sales, news and even carried the trash out.
Britton stopped by Eagle Country 99.3 on Friday to help celebrate WSCH's anniversary.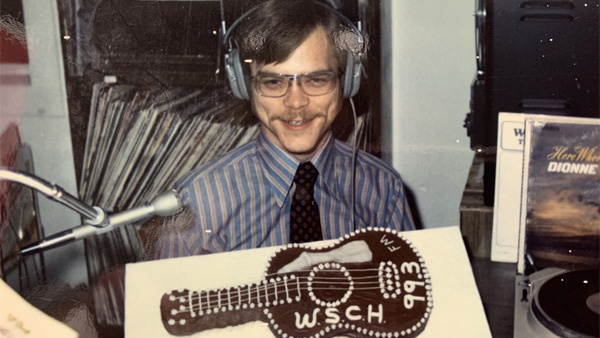 Bob Britton at the control board of WSCH-FM in Aurora in January 1971. The cake was baked and delivered by a listener.
"I wanted to stop by today and congratulate WSCH on its 50th," said Britton. "John and Barb Schuler pioneered radio in this area, worked very hard, diligently, to make this happen and its been going on for 50 years."
Britton spoke of the early days at WSCH. When the station went on the air in October of 1970, it was right before the election, which meant the crew had a lot of advertisements or commercials to cut.
"At that time, our production studio was in John's office. And all we had was a microphone plugged right into the back of a tape caster. For those who don't know what that is, it looks like an old 8-Track where you would cut your commercials on. So, we actually did voice right on the tape caster with no background music of all. You learn to be a one taker real quick," said Britton.
Today's technology allows for mistakes to be corrected with the click of a button. The term disk jockey has also been replaced by on-air personality, considering music is played digitally in 2020.
Aside from the technological advances and new personalities, not much has changed at WSCH.
"I really wanted to spend time to honor Barb and John for being the pioneers that they were and putting this on the air. People don't realize what it takes to get a radio station started especially back in that day. They did a lot of hard work and a lot of effort went toward what people enjoy today and have for the past 50 years. When you think of the news, the sports, the music, the entertainment, the fact of being part of a hometown station, we are excited to see that WSCH is alive and kicking in the year 2020," said Britton.
As seen in the advertisement above, WSCH originally focused on providing music, up to the minute news, sports, weather, swap shop and the community calendar. Fifty years later, the same could be said, although the swap shop is online only.
Britton also reminisced about his time covering news, struggles getting to the station on Salem Ridge Road during winter storms, and the first song he ever played at WSCH.
"I played Merle Haggard," said Britton.
He believes the song was "Mama Tried". Britton added that he played a lot of Merle, Charlie Pride, and others. Those same artists are still featured 50 years later at Eagle Country 99.3.
HEAR DOUBLE T'S FULL INTERVIEW WITH BOB BRITTON IN THE AUDIO PLAYER BELOW