Affordable Tax Consultants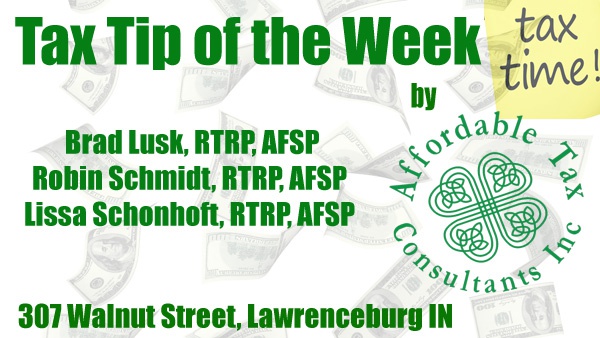 Like Affordable Tax Consultants
on Facebook!
With over 10,000 tax returns submitted in the last 15 years, Brad Lusk at Affordable Tax Consultants has experience in not only personal returns, but also with small business, rental properties, farms, estates and more. Specializing in personal returns, Brad takes his time to connect with all of his clients to provide a personalized approach along with expert advice. Brad is consistent with staying on top of all the ongoing changes in the tax world, by continuing his education throughout the year.
Designations Brad has earned through the IRS include Registered Tax Return Preparer (RTRP) and Annual Filing Season Program (AFSP).
"Filing your income taxes is one of the most important financial transactions of the year. This is why it is important to us that you receive the attention necessary to get the job done correctly," Brad says.
If you want to save yourself work and get back money that you deserve, visit Brad, Robin and Lissa today at Affordable Tax Consultants, 307 Walnut Street, LAWRENCEBURG, IN 47025
You can also learn more at affordabletaxconsultants.com or email Brad directly with your questions: bradlusk@affordabletaxconsultants.com.

Things taxpayers should know when choosing between standard and itemized deductions
COVID Tax Tip 2021-22, February 22, 2021
Deductions reduce the amount of taxable income when filing a federal income tax return. In other words, they can reduce the amount of tax someone owes.
Most taxpayers have a choice of either taking the standard deduction or itemizing their deductions. The standard deduction may be quicker and easier, but, itemizing deductions may lower taxes more, in some situations. It's important for all taxpayers to look into which deduction method best fits them.
New this year
Following tax law changes, cash donations of up to $300 made by December 31, 2020 are deductible without having to itemize when people file a 2020 tax return.
Here are some details about the two methods to help people decide deduction to take:
Standard deduction
The standard deduction is an amount that reduces taxable income. The amount adjusts every year and can vary by filing status. The standard deduction amount depends on the taxpayer's filing status, whether they are 65 or older or blind, and whether another taxpayer can claim them as a dependent. Taxpayers who are age 65 or older on the last day of the year and don't itemize deductions are entitled to a higher standard deduction.
Taxpayers benefit from the standard deduction if their standard deduction is more than the total of their allowable itemized deductions. They can use the Interactive Tax Assistant, How Much Is My Standard Deduction? to determine the amount their standard deduction and if they should itemize their deductions.
Itemized deductions
Taxpayers may itemize deductions because that amount is higher than their standard deduction, which will result in less tax owed or a larger refund. In some cases, they not allowed to use the standard deduction.
Tax software can guide taxpayers through the process of itemizing their deductions. Taxpayers who itemize file Schedule A (Form 1040 or 1040-SR), Itemized Deductions or Form 1040-SR, U.S. Tax Return for Seniors.
A taxpayer may benefit by itemizing deductions if any of following apply to their tax situation, they:
Had large uninsured medical and dental expenses
Paid interest and taxes on their home
Had large uninsured casualty or theft losses
Made large contributions to qualified charities
Individual itemized deductions may be limited. Schedule A, (Form 1040 or 1040-SR), Itemized Deductions can help determine what limitations may apply.
-More tax tips below-
People should be on the lookout for identity theft involving unemployment benefits
COVID Tax Tip 2021-24, February 24, 2021
The IRS urges taxpayers whose identities may have been used by thieves to steal unemployment benefits to file a tax return claiming only the income they actually received.
In 2020, millions of taxpayers were affected by the COVID-19 pandemic through job loss or reduced work hours. Some taxpayers applied for and received unemployment compensation from their state. By law, unemployment benefits are taxable.
Scammers also took advantage of the pandemic by filing fraudulent claims for unemployment compensation
using stolen personal information of individuals who had not filed claims. Payments made as a result of these fraudulent claims went to the identity thieves.
Taxpayers who receive an incorrect Form 1099-G should contact the issuing state agency to request a revised form. If they're unable to get a timely, corrected form from states, they should still file an accurate tax return, reporting only the income they received. They should save whatever documentation they have regarding their attempts to receive a corrected form from their state agency.
What people should if they think they might be an identity theft victim
People should visit Identity Theft Central for more information about the signs of identity theft.
Taxpayers do not need to file a Form 14039, Identity Theft Affidavit, with the IRS about an incorrect Form 1099-G. An affidavit should only be filed only if the taxpayer's e-filed return is rejected because a return using the same Social Security number already has been filed.
If a taxpayer is concerned that their personal information has been stolen and they want to protect their identity when filing their federal tax return, they can request an identity protection PIN from the IRS.
An Identity Protection PIN is a six-digit number that prevents someone else from filing a tax return using a taxpayer's Social Security number. The IP PIN is known only to the taxpayer and the IRS, and this step helps the IRS verify the taxpayer's identity when they file their electronic or paper tax return.
States should not issue Forms 1099-Gs to taxpayers they know to be victims of identity theft involving unemployment compensation.
New law extends COVID tax credit for employers who keep workers on payroll
IR-2021-21, January 26, 2021
WASHINGTON — The Internal Revenue Service urges employers to take advantage of the newly-extended employee retention credit, designed to make it easier for businesses that, despite challenges posed by COVID-19, choose to keep their employees on the payroll.
The Taxpayer Certainty and Disaster Tax Relief Act of 2020, enacted December 27, 2020, made a number of changes to the employee retention tax credits previously made available under the Coronavirus Aid, Relief, and Economic Security Act (CARES Act), including modifying and extending the Employee Retention Credit (ERC), for six months through June 30, 2021. Several of the changes apply only to 2021, while others apply to both 2020 and 2021.
As a result of the new legislation, eligible employers can now claim a refundable tax credit against the employer share of Social Security tax equal to 70% of the qualified wages they pay to employees after December 31, 2020, through June 30, 2021. Qualified wages are limited to $10,000 per employee per calendar quarter in 2021. Thus, the maximum ERC amount available is $7,000 per employee per calendar quarter, for a total of $14,000 in 2021.
Employers can access the ERC for the 1st and 2nd quarters of 2021 prior to filing their employment tax returns by reducing employment tax deposits. Small employers (i.e., employers with an average of 500 or fewer full-time employees in 2019) may request advance payment of the credit (subject to certain limits) on Form 7200, Advance of Employer Credits Due to Covid-19, after reducing deposits. In 2021, advances are not available for employers larger than this.
Effective January 1, 2021, employers are eligible if they operate a trade or business during January 1, 2021, through June 30, 2021, and experience either:
1. A full or partial suspension of the operation of their trade or business during this period because of governmental orders limiting commerce, travel or group meetings due to COVID-19, or
2. A decline in gross receipts in a calendar quarter in 2021 where the gross receipts of that calendar quarter are less than 80% of the gross receipts in the same calendar quarter in 2019 (to be eligible based on a decline in gross receipts in 2020 the gross receipts were required to be less than 50%).
Employers that did not exist in 2019 can use the corresponding quarter in 2020 to measure the decline in their gross receipts. In addition, for the first and second calendar quarters in 2021, employers may elect in a manner provided in future IRS guidance to measure the decline in their gross receipts using the immediately preceding calendar quarter (i.e., the fourth calendar quarter of 2020 and first calendar quarter of 2021, respectively) compared to the same calendar quarter in 2019.
In addition, effective January 1, 2021, the definition of qualified wages was changed to provide:
For an employer that averaged more than 500 full-time employees in 2019, qualified wages are generally those wages paid to employees that are not providing services because operations were fully or partially suspended or due to the decline in gross receipts.
For an employer that averaged 500 or fewer full-time employees in 2019, qualified wages are generally those wages paid to all employees during a period that operations were fully or partially suspended or during the quarter that the employer had a decline in gross receipts regardless of whether the employees are providing services.

Retroactive to the March 27, 2020, enactment of the CARES Act, the law now allows employers who received Paycheck Protection Program (PPP) loans to claim the ERC for qualified wages that are not treated as payroll costs in obtaining forgiveness of the PPP loan.

For more information, see COVID-19-Related Employee Retention Credits: How to Claim the Employee Retention Credit FAQs​​​​​​.
- Previous Tax Tips below -
2021 tax filing season begins Feb. 12; IRS outlines steps to speed refunds during pandemic
IR-2021-16, January 15, 2021
WASHINGTON ― The Internal Revenue Service announced that the nation's tax season will start on Friday, February 12, 2021, when the tax agency will begin accepting and processing 2020 tax year returns.
The February 12 start date for individual tax return filers allows the IRS time to do additional programming and testing of IRS systems following the December 27 tax law changes that provided a second round of Economic Impact Payments and other benefits.
This programming work is critical to ensuring IRS systems run smoothly. If filing season were opened without the correct programming in place, then there could be a delay in issuing refunds to taxpayers. These changes ensure that eligible people will receive any remaining stimulus money as a Recovery Rebate Credit when they file their 2020 tax return.
To speed refunds during the pandemic, the IRS urges taxpayers to file electronically with direct deposit as soon as they have the information they need. People can begin filing their tax returns immediately with tax software companies, including IRS Free File partners. These groups are starting to accept tax returns now, and the returns will be transmitted to the IRS starting February 12.
"Planning for the nation's filing season process is a massive undertaking, and IRS teams have been working non-stop to prepare for this as well as delivering Economic Impact Payments in record time," said IRS Commissioner Chuck Rettig. "Given the pandemic, this is one of the nation's most important filing seasons ever. This start date will ensure that people get their needed tax refunds quickly while also making sure they receive any remaining stimulus payments they are eligible for as quickly as possible."
Last year's average tax refund was more than $2,500. More than 150 million tax returns are expected to be filed this year, with the vast majority before the Thursday, April 15 deadline.
Under the PATH Act, the IRS cannot issue a refund involving the Earned Income Tax Credit (EITC) or Additional Child Tax Credit (ACTC) before mid-February. The law provides this additional time to help the IRS stop fraudulent refunds and claims from being issued, including to identity thieves.
The IRS anticipates a first week of March refund for many EITC and ACTC taxpayers if they file electronically with direct deposit and there are no issues with their tax returns. This would be the same experience for taxpayers if the filing season opened in late January. Taxpayers will need to check Where's My Refund for their personalized refund date.
Overall, the IRS anticipates nine out of 10 taxpayers will receive their refund within 21 days of when they file electronically with direct deposit if there are no issues with their tax return. The IRS urges taxpayers and tax professionals to file electronically. To avoid delays in processing, people should avoid filing paper returns wherever possible.
Tips for taxpayers to make filing easier
To speed refunds and help with their tax filing, the IRS urges people to follow these simple steps:
File electronically and use direct deposit for the quickest refunds.

Check IRS.gov for the latest tax information, including the latest on Economic Impact Payments. There is no need to call.

For those who may be eligible for stimulus payments, they should carefully review the guidelines for the Recovery Rebate Credit. Most people received Economic Impact Payments automatically, and anyone who received the maximum amount does not need to include any information about their payments when they file. However, those who didn't receive a payment or only received a partial payment may be eligible to claim the Recovery Rebate Credit when they file their 2020 tax return. Tax preparation software, including IRS Free File, will help taxpayers figure the amount.

Remember, advance stimulus payments received separately are not taxable, and they do not reduce the taxpayer's refund when they file in 2021.

Key filing season dates

There are several important dates taxpayers should keep in mind for this year's filing season:
January 15. IRS Free File opens. Taxpayers can begin filing returns through Free File partners; tax returns will be transmitted to the IRS starting Feb. 12. Tax software companies also are accepting tax filings in advance.

January 29. Earned Income Tax Credit Awareness Day to raise awareness of valuable tax credits available to many people – including the option to use prior-year income to qualify.

February 12. IRS begins 2021 tax season. Individual tax returns begin being accepted and processing begins.

February 22. Projected date for the IRS.gov Where's My Refund tool being updated for those claiming EITC and ACTC, also referred to as PATH Act returns.

First week of March. Tax refunds begin reaching those claiming EITC and ACTC (PATH Act returns) for those who file electronically with direct deposit and there are no issues with their tax returns.

April 15. Deadline for filing 2020 tax returns.

October 15. Deadline to file for those requesting an extension on their 2020 tax returns

Filing season opening

The filing season open follows IRS work to update its programming and test its systems to factor in the second Economic Impact Payments and other tax law changes. These changes are complex and take time to help ensure proper processing of tax returns and refunds as well as coordination with tax software industry, resulting in the February 12 start date.

The IRS must ensure systems are prepared to properly process and check tax returns to verify the proper amount of EIP's are credited on taxpayer accounts – and provide remaining funds to eligible taxpayers.

Although tax seasons frequently begin in late January, there have been five instances since 2007 when filing seasons did not start for some taxpayers until February due to tax law changes made just before the start of tax time.
Important reminders before filing 2020 tax returns
Following an unpredictable year with many changes and challenges, the Internal Revenue Service today shared important reminders for taxpayers who are about to file their 2020 federal tax returns.
Choose direct deposit
The safest, most accurate and fastest way to get a refund is to electronically file and choose direct deposit. Direct deposit means any tax refund is electronically deposited for free into a taxpayer's financial account.
Eight out of 10 taxpayers get their refunds by using direct deposit. It is simple, safe and secure. This is the same electronic transfer system used to deposit nearly 98% of all Social Security and Veterans Affairs benefits into millions of accounts.
Earned Income Tax Credit
The Earned Income Tax Credit (EITC) can give qualifying workers with low-to-moderate income a substantial financial boost. EITC not only reduces the amount of tax someone owes but may give them a refund even if they don't owe any taxes or aren't required to file a return.
People must meet certain requirements and file a federal tax return in order to receive this credit. The EITC assistant on IRS.gov can help people determine if they qualify.
The IRS reminds taxpayers that they may elect to use their 2019 earned income to figure the EITC if their 2019 earned income is more than their 2020 earned income. For details, see Publication 596, Earned Income Credit. Taxpayers also have the option of using their 2019 income to figure the Additional Child Tax Credit for 2020.
Taxable unemployment compensation
Millions of Americans received unemployment compensation in 2020, many of them for the first time. This compensation is taxable and must be included as gross income on their tax return.
Taxpayers can elect to have federal taxes withheld from their unemployment benefits or make estimated tax payments, but many do not take these options. In that case, taxes on those benefits will be paid when the 2020 tax return is filed. Taxes can be paid throughout the year. For safe and secure ways to pay taxes electronically go to IRS.gov/payments.
Taxpayers can find more details on taxable unemployment compensation in Tax Topic 418, Unemployment Compensation, or in Publication 525, Taxable and Nontaxable Income, on IRS.gov.
Interest is taxable income
Many individual taxpayers who received a refund on their 2019 tax returns also received interest from the IRS. The interest payments were largely the result of the postponed filing deadline of July 15 due to the COVID-19 pandemic.
The 2019 refund interest payments are taxable, and taxpayers must report the interest on their 2020 federal income tax return.
The IRS will send a Form 1099-INT to anyone who receives interest totaling at least $10. The average refund interest amount is $18, but the amount for each taxpayer varies based on the tax refund that the taxpayer received. Form 1099-INT will be issued no later than February 1, 2021.
Home office deduction
The home office deduction is available to qualifying self-employed taxpayers, independent contractors and those working in the gig economy.
However, the Tax Cuts and Jobs Act suspended the business-use-of-home deduction from 2018 through 2025 for employees. Employees who receive a paycheck or a W-2 exclusively from an employer are not eligible for the deduction, even if they are currently working from home. IRS Publication 587, Business Use of Your Home, provides more on the home office deduction.
Workers moving into the gig economy
Many people found different employment in 2020, including jobs in the gig economy. Taxpayers must report income earned in the gig economy on their tax return. However, gig-economy workers generally do not have taxes withheld from their pay as salaried workers normally do. The IRS encourages people earning income in the gig economy to consider making quarterly estimated tax payments to stay current with their federal tax obligations.
Charitable donation deduction for people who don't itemize
Individuals who take the standard deduction generally cannot claim a deduction for their charitable contributions. However, the CARES Act permits these individuals to claim a limited deduction on their 2020 federal income tax returns for cash contributions made to certain qualifying charitable organizations and still claim the standard deduction. Nearly nine in 10 taxpayers now take the standard deduction and could potentially qualify.
Before making a donation, the IRS reminds people they can check the special Tax Exempt Organization Search (TEOS) tool on IRS.gov to make sure the organization is eligible for tax-deductible donations.
Under this change, individuals can claim a deduction of up to $300 for cash contributions made to qualifying charities during 2020. This deduction does not apply to donated property. The maximum deduction is $150 for married individuals filing separate returns. More information is available in Publication 526, Charitable Contributions, on IRS.gov.
Disasters such as wildfires, flooding or hurricanes
Special tax law provisions may help taxpayers and businesses recover financially from the impact of a disaster, especially when the federal government declares their location to be a major disaster area. Some 2020 tax deadlines in certain counties have been extended into 2021 due to recent wildfires, hurricanes or flooding.
All taxpayers are now eligible for identity protection PINs
IRS Tax Tip 2021-07, January 26, 2021
The IRS has expanded the Identity Protection PIN Opt-In Program to all taxpayers who can verify their identity.
The Identity Protection PIN is a six-digit code known only to the taxpayer and to the IRS. It helps prevent identity thieves from filing fraudulent tax returns using a taxpayers' personally identifiable information.
Here are a few key things to know about the IP PIN Opt-In program.
This is a voluntary program.
Taxpayers must pass a rigorous identity verification process.
Spouses and dependents are eligible for an IP PIN if they can verify their identities.
An IP PIN is valid for a calendar year.
People must get a new IP PIN each filing season.
The online IP PIN tool is offline between November and mid-January each year.
Correct IP PINs must be entered on electronic and paper tax returns to avoid rejections and delays.
Taxpayers should Never share their IP PIN with anyone but their trusted tax provider.
The IRS will never call, text or email requesting their IP PIN.
People should beware of scams to steal their IP PIN.
There currently is no opt-out option but the IRS is working on one for 2022.

How to get an IP PIN

Taxpayers who want an IP PIN for 2021 should use Get an IP PIN tool on IRS.gov. This tool uses Secure Access authentication verify a person's identity. Taxpayers should review the Secure Access requirements before they try to use the Get An IP PIN tool. There is no need to file a Form 14039, Identity Theft Affidavit, to join the program.

Once a taxpayer have authenticated their identity, their 2021 IP PIN immediately will be revealed to them. This PIN must be used when prompted by electronic tax returns or written near the signature line on paper tax returns.

Options for taxpayers who can't verify their identity online

Taxpayers whose adjusted gross income is $72,000 or less may complete Form 15227 (EN-SP), Application for an Identity Protection Personal Identification Number PDF, and mail or fax it to the IRS. A customer service representative will contact the taxpayer and verify their identity by phone. Taxpayers should have their prior year tax return for verification process.

Taxpayers who verify their identity this way will have an IP PIN mailed to them the following tax year. This is for security reasons. Once in the program, the IP PIN will be mailed to these taxpayers each year.

Taxpayers who can't verify their identity online or by phone and are ineligible for file Form 15227 can contact the IRS and make an appointment at a Taxpayer Assistance Center to verify their identity in person. They'll need to bring should bring two forms of identification, including one government-issued picture identification.

Taxpayers who verify their identity in-person will have an IP PIN mailed to them within three weeks. Once in the program, the IP PIN will be mailed to these taxpayers each year.

Confirmed identity theft victims

Current tax-related identity theft victims who have been receiving IP PINs by mail will experience no change.

Taxpayers who are confirmed identity theft victims or who have filed an identity theft affidavit because of suspected stolen identity refund fraud will automatically receive an IP PIN by mail once their cases are resolved.
New things taxpayers should consider as they get ready to file taxes in 2021
When people get ready to file their federal tax return there are new things to consider when it comes to which credits to claim and what deductions to take. These things can affect the size of any refund the taxpayer may receive.
Here are some new key things people should consider when filing their 2020 tax return.
Recovery rebate credit
Taxpayers may be able to claim the recovery rebate credit if they met the eligibility requirements in 2020 and one of the following applies to them:
They didn't receive an Economic Impact Payment in 2020.
They are single and their payment was less than $1,200.
They are married, filed jointly for 2018 or 2019 and their payment was less than $2,400.
They didn't receive $500 for each qualifying child.
Refund interest payment
People who received a federal tax refund in 2020 may have been paid interest. The IRS sent interest payments to individual taxpayers who timely filed their 2019 federal income tax returns and received refunds. Most interest payments were received separately from tax refunds. Interest payments are taxable and must be reported on 2020 federal income tax returns. In January 2021, the IRS will send a Form 1099-INT, Interest Income, to anyone who received interest of at least $10.
New charitable deduction allowance
New this year, taxpayers who don't itemize deductions can take a charitable deduction of up to $300 for cash contributions made in 2020 to qualifying organizations. For more information, people should review Publication 526, Charitable Contributions.
Other refund-related reminders
The fastest and most secure way to receive a refund is to combine direct deposit with electronic filing, including the IRS Free File program. Taxpayers can track the status of their refund using the Where's My Refund? tool.
Taxpayers shouldn't rely on receiving a refund by a certain date, especially when making major purchases or paying bills. Some tax returns may require additional review and processing may take longer.
Refunds for taxpayers claiming the earned income tax credit or additional child tax credit can't be issued before mid-February. This applies to the entire refund, not just the portion associated with this credit.
CLICK HERE FOR MORE TAX TIPS FROM BRAD LUSK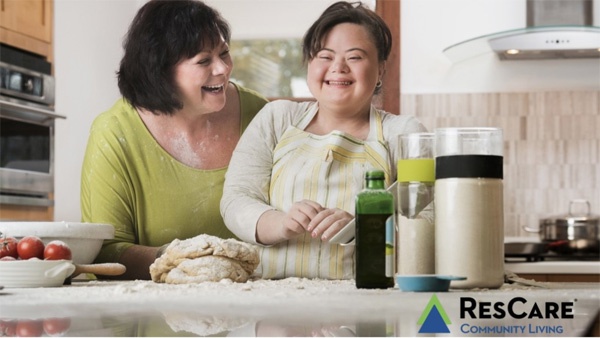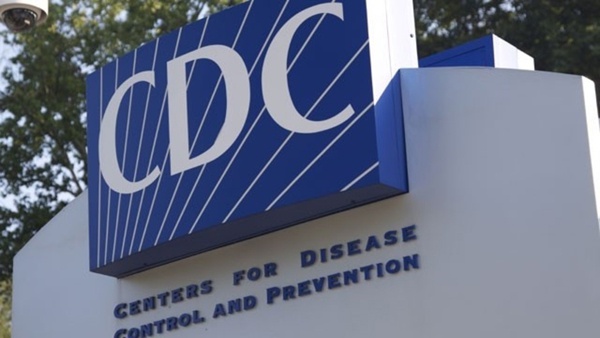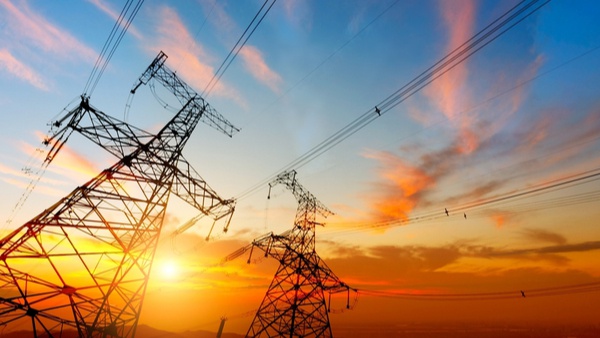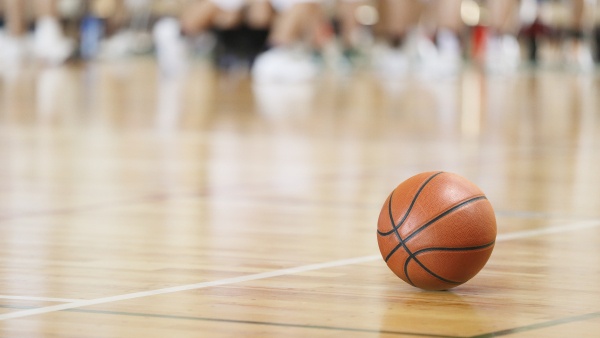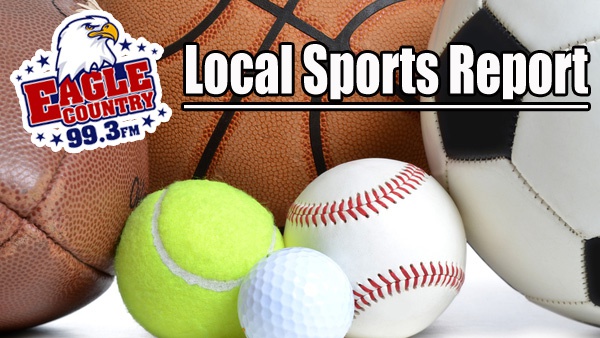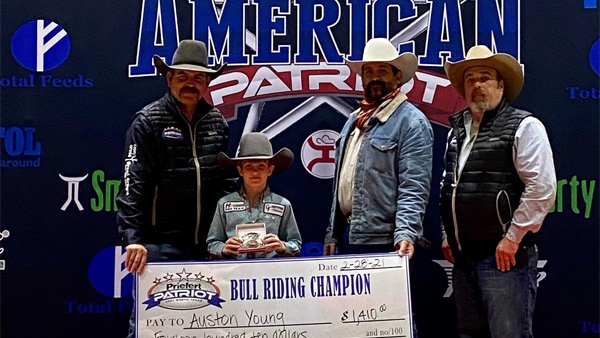 On Air